OUR 2018 MENU
Each year, Chef David Miles modernizes our menu for the upcoming wedding season. Consistent with our farm to fork philosophy, Chef David takes into consideration what is readily available at local markets when creating new dishes and revitalizing our classics. As a response to the popular trend of smoked foods, we have added a braised beef Brisket. Our menu this year also boasts a Boar belly – this flavorful cut of meat is slow cooked resulting in a tender and ambrosial roast akin to short ribs without the bone.
WEDDING WEEKEND CATERING
From the rehearsal dinner, right through to Sunday Brunch, we have a full-service menu that is bound to leave you and your guests content all weekend long. Select your menu items for the weekend and leave the rest to us. After all the details from the rehearsal are ironed out, relax on our back deck overlooking the Rockies while feasting on our Signature Cherry Creek Burger. Start your big day right with a fresh fruit loaf, homemade granola and locally brewed coffee. After your ceremony, gather with your guests in the Villa for passed appetizers. These delectable bites are sure to please even the most discerning palates. Unique this year, Chef David will be recommending various pairings to enhance the culinary experience of guests during the Wedding Reception. Perfect pairings will be released at our private menu tasting in April. Finish dinner by dazzling your guests' taste buds with our mouth-watering cheese cake – topped with raspberries grown on-site. Wrap up your wedding weekend with brunch; enjoy stuffed crepes or Benedict
Rehearsal Dinner
Rehearsal dinners are typically served on our back deck overlooking the Rocky Mountain range. Choice of one main, two salads, a side and a refreshing seasonal fruit salad
Main:
Signature Cherry Creek Burger - A custom blend of fresh ground beef in a six-ounce patty and served with an array of garnishes

Triple B Burgers - Bison & boar in a six-ounce patty served with bacon and a spicy hoisin aioli and garnishes

Grilled Vegetable Stack with hallumi cheese and pesto drizzle

Sweet & Spicy Korean Beef Pita with greens, goat cheese and pickled red onion

Souvlaki - choice of chicken or pork served with traditional garnishes (pitas, greens, tatziki, tomato, cucumber and red onion)

Salmon Fillet Burger on multi-grain bun with lemon dill aioli, shaved red onion, arugula and sliced tomato

Baby Back Pork Ribs with maple burbon barbecue sauce

Brisket on a bun - served with sweet chilli aioli and crispy onions

Striploin Steak Sandwich (eight ounce) on baguette with sauté peppers and onion – please note this item is an up-charge
Salad (choice of 2):
Chef's salad - Market greens and garden veggies as they become available with a strawberry balsamic vinaigrette

Cucumber, tomato and feta with herbed vinaigrette (GF)

Creamy pesto macaroni

Cherry Creek Caesar

House salad with your choice of dressing - coriander apple, balsamic and herbs, honey dijon, estate ranch or creamy garlic raspberry (GF)

Chick pea and black bean salad with tomato, bell peppers, red onion, cucumber and feta dressed in a sweet corn vinaigrette
Side:
Spanish tortilla

Roasted mini potatoes with summer herbs

Baked potato served with cheddar cheese, roasted garlic sour cream and farm fresh chives GF

Country potato salad (GF)

Cajun potato wedges (GF)

Mac 'n cheese

Grilled Vegetable skewers (GF)
Light Breakfast
This two-hour service has a flexible time frame to accommodate your bridal party and guests staying on site. Includes: berry yogurt, granola, seasonal fruit loaf, assorted juice, coffee and tea station.
Passed Appetizers
Served during Cocktail Hour inside Creekside Villa
Seafood appetizer assortment
Mini crab cakes with fruit salsa - served hot

Seared scallop with peach preserve on a parmesan chip - served hot

Poached pesto lobster tail profiteroles with creme fraiche - served cold

Smoke salmon croquettes with lemon dill sauce - served hot
Select any four appetizers
Caprese salad bites with balsamic reduction - served cold (GF)

House cured salmon on black pepper crostini with Dill cream cheese - served cold

Spiced asparagus soup shot with sesame - served cold (GF)

Bacon lettuce tomato topped waffle rounds with black pepper mayo

Paprika chicken phyllo cups with red pepper, jalapeño pepper and honey crème - served cold

Scallion cakes with five spice duck breast and maple aioli - served cold

Spanish tortilla with roasted red pepper coulis and manchego cheese - room temperature GF

Ham & cheddar croquette bites with ginger apple dip

Margherita risotto cakes with fresh mozzarella and sundried tomato pesto

Olive oil roasted grape tomato with provolone on pesto crostini - served hot

Vietnamese tofu marinated and deep-fried tofu with cilantro, mint, pickled cucumber and carrots - served hot (GF)

Morrocan spiced lamb sliders with cumin ketchup - served hot

Jerk chicken karaage bites with peach aioli - served hot (GF)

Hoisin glazed bison meatballs - served hot

Black bean cakes with sour cream and pico de gallo - served hot (GF)

Roasted jalapeño peppers stuffed with coconut gouda and crab - served hot (GF)
Chef's Seasonal appetizers examples - available only when specified
Watermelon feta skewers with balsalmic (late July- August) (GF)

Southern style fried cauliflower with spicy cheese dip (mid-July - September)

Pecan shortbread with gorgonzola and fresh pear (mid-September - December)

Jalapeño and goat cheese stuffed tempura cherries (early August to mid-September

Raspberry canapé with goat cheese cream on an almond flax cracker (mid-July to late August)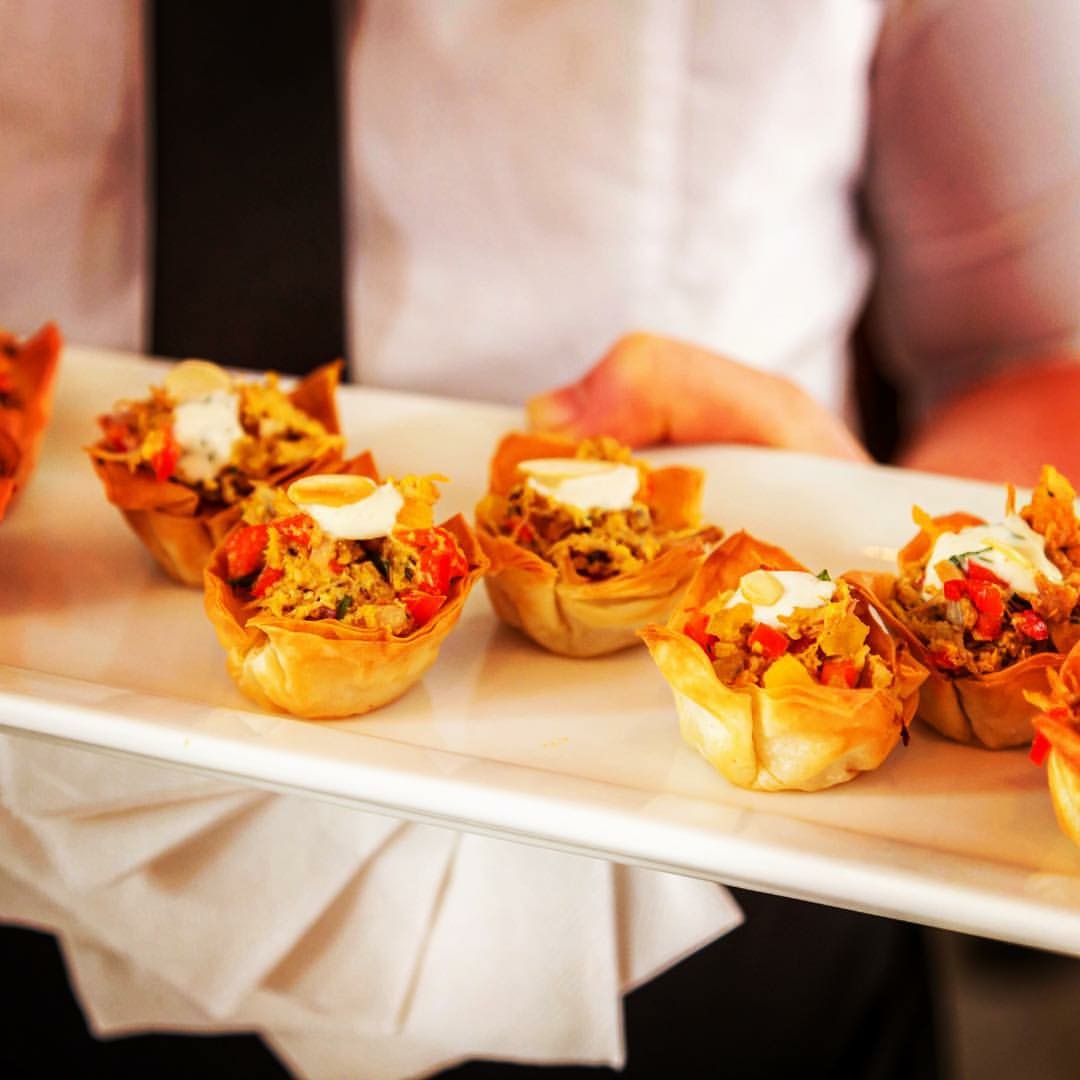 Stationary Platters
People like to snack! A great choice to offer guests either pre or post ceremony or even as midnight snack.
Chips and Dip - organic corn chips paired with choice of two dips

Dip Chips and Crudités - Freshly cut seasonal vegetable, organic corn chips served with your choice of two dips

First rate - Freshly cut vegetables, organic corn chips choice of two dips and an assorted cheese platter

Artisan Cheese platters - Customizable collection of BC, Canadian and imported cheeses, crackers, pickled goodies, chutneys, fresh fruit and preserves.
Optional Dips
Roasted garlic hummus

Ranch change with blue cheese or other creamy dip

Romesco traditional recipe includes gluten and nuts

Coconut curry dahl (GF)

Spinach and leek

Black bean black sesame hummus
Wedding Reception Buffet
Along with your family and friends, your first meal as a married couple is bound to be memorable. Our typical reception buffet includes a choice of two salads, two mains (one from Group A and one from Group B), a side, a potato & rice pilaf. All buffets served with fresh bread/buns and maître d' hotel butter. Every salad can be GF.
Salad: (choice of 2)
Canadian Grain Salad - Prairie grown mix of grains including quinoa, lentils and black beans with dried cranberries, bell peppers, pumpkin seeds and citrus vinaigrette

Cherry Creek Caesar with crispy local prosciutto

House Salad - mixed greens and seasonal goodies (carrots, red onion, red pepper, cucumber, tomato) tossed with your choice of dressing

Coriander apple, balsamic and herbs, honey Dijon, Mediterranean, OR creamy garlic raspberry

Mediterranean Fusilli Pasta Salad with cucumbers, bell pepper, red onion, feta, kalamata olives and pesto vinaigrette

Cucumber, Feta & Pickled Red Onion on a bed of greens with a honey lemon vinaigrette

Chick Pea & Black Bean Salad with tomato, bell peppers, red onion, cucumber and feta dressed in a sweet corn vinaigrette

Seasonal Chef's Creation - examples: Asparagus arugula and prosciutto salad (mid-May to mid-June), Spinach salad with strawberries and goat cheese (mid/late June to September), Roasted root vegetable salad with feta (mid/late September to December)
Main: (Choice of one from each group below)
Group A
Citrus and herb roasted chickens with citrus gravy (GF)

Sweet soy and sage Boar belly (GF)

Duck chops with blackberry pinot noir sauce (GF)

Pork tenderloin medallions with a ginger cream sauce (GF)

Veal and ricotta stuffed cannelloni in rose sauce

Beef Cheek tagliatelle in a rich tomato sauce

Chicken Saltimbocca with white wine sage light cream sauce (GF)

St. Mary's porter braised beef brisket served with reduced braising liquid
Group B
Elk Short Ribs slow roasted and served with a braised sauce (GF)

Roasted Duck Breast with apple ginger sauce (GF)

Ancho crusted Lois lake Steelhead Salmon with spiced maple syrup glaze (GF)

Chinese red braise Pork Cheeks (GF)

Roast Beef Striploin with horseradish and choice of sauce: gourmet mushroom medley, mixed peppercorn, chasseur, chimi cherry sauce (GF)

Braised Boar Shoulder in a tomato red wine sauce or summer herb cream sauce (GF)

Sockeye Salmon with summer ratatouille (GF)

Beef Short Ribs braised in red wine curry sauce (GF)
Vegetarian Main Course Options:
Roasted Veggie Stack with grilled halumi cheese and pesto (GF)

Spinach, ricotta and herb stuffed cannelloni

Mixed grain stuffed peppers in a spiced tomato sauce - (option to be GF)

Moroccan chick pea and seasonal vegetable tagine (GF)

Polenta Torta - Layers of polenta, pesto, parmesan cheese, tomato sauce or mushroom ragu and fresh mozzarella
Premium mains: please note these item are an up-charge
Pesto baked Halibut with citrus beure blanc (GF)

AAA Fresh Prime Rib with horseradish and choice of sauce: strawberry black pepper, gourmet mushroom demi, mixed peppercorn demi, red wine star anise reduction (GF)

French inspired red wine braised Lamb Shanks (GF)

Bison Roast with black berry sauce GF
Side: GF
Seasonal local vegetable medley - a selection of zucchini, bell peppers, carrots, beans, beets, asparagus, broccoli and other local gems

Olive oil and black pepper green beans and bell peppers

Salt roasted beets with broccoli
Potato: GF
Lemon rosemary roasted

Garlic and herb cottage style

Roasted garlic Mash Potato - subject to availability
Served with Rice Pilaf - a traditional version using a variety of rice and grains cooked with chicken or vegetable stock.
Dessert
Category l
Vanilla cheesecake on a brown sugar shortbread crust seasonal berry compote, lemon blueberry sauce, strawberry balsamic or chocolate sauce (option to be GF)

Coffee and donuts - Expresso chocolate mousse shots and fresh beignets

Ice Cream sandwich - Chocolapte chip cookies and vanilla bean ice cream
Category ll
Dessert Platter - Mini eclairs, flour less chocolate cake GF, mini carrot cake, coconut macaroons GF and seasonal goodies

Seasonal berry trifle - Vanilla sponge cake, seasonal berries, bourbon pastry cream, cream anglaise and whipped cream
Category lll
Chocolate lover's platter - Chocolate cheesecake squares, double chocolate cake bites GF, mini eclairs and chocolate macaroons GF served with whip cream and seasonal berries

BC & Canadian cheese and fruit platter - Assorted hard, soft cow and goat cheese varieties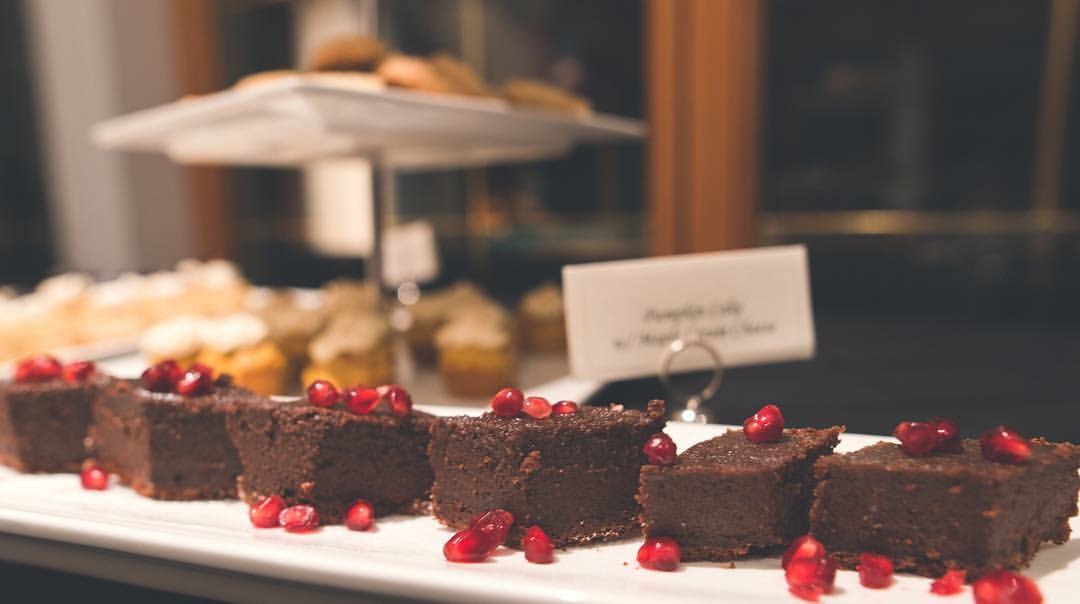 Midnight Snack
Fuel the party with a tasty snack.
Category l
Traditional platter of delicatessen meats and cheeses, served with buns, crackers, assorted pickles, condiments
Category ll
Morrocan spiced duck wing drumettes with apricot aioli and fries (GF)

Poutine Galvaude - chicken gravy, roasted chicken, green peas and cheese curd (GF)

Perogies - A selection of locally made perogies served with beer batter onion rings and bacon sour cream dip
Category lll
Gourmet grilled cheese sandwich with an aged Canadian and English cheddar and cave aged gruyere served with spicy tomato dip and assorted pickles

Prime rib poutine with peppercorn gravy, cheese curds and diced prime rib (GF)

Elk sliders served with kettle cooked potato chips
Category lV
Perogies with bacon sour cream and poutine with peppercorn gravy

Moroccan duck wings and peppercorn poutine GF
Sunday Brunch
A wonderful way to connect with family and friends before parting ways. Sunday brunch is served on our back deck or inside Creekside Villa. Our brunch buffet includes coffee, tea, juice, toast station, a main course, one breakfast meat, hashbrowns & fruit salad.
Main:
Benedict - Poached eggs, back bacon, tomato and cayenne hollandaise on toasted ciabatta bread - option to replace bacon with smoked salmon

Florentine - Poached eggs with sautéed spinach, tomato and cheese sauce on rosti potato GF

Stuffed crepes with scrambled eggs cheese, mushroom, onion and peppers.

Shirred eggs - Baked eggs garnished with shallots, cream and gruyere GF

Brioche goat cheese stuffed French toast with spiced berries and cream

Self garnish crepes - warm crepes, whipped cream, seasonal fruit and maple syrup

Scramble Egg & smoke salmon phyllo tarts
Breakfast meat:
Bacon

Back Bacon

Ham

Breakfast sausages - choice of turkey (when available), pork, or beef
Optional Brunch Items: – please note these items incur an up-charge
Pancakes with blueberry syrup

Additional choice of meat

Yogurt with homemade granola
We strive to allow all guests to enjoy the full dining experience however our kitchen is NOT Gluten free, Nut free etc. The culinary team works very hard to manage all allergy concerns but these cannot be guaranteed. Hence GF is gluten friendly not gluten free – specifically no gluten was used in or around preparation of the item.
Legend: GF = Gluten friendly